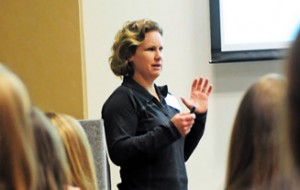 Recently, I had the privilege of being a keynote speaker for April in Auburn 2011 at Auburn University. The presentation was on human factors in digital communications — specifically web pages and social media. I also included a brief segment on trending developments in digital media, but that portion is edited out of the deck below.
I really enjoyed my time there, the students, faculty and society members who attended, and would like to express my thanks for the opportunity, their kindness, and the reception I received. (Photo courtesy of Shanna Lockwood.)
I also had the opportunity to give an abridged version of this talk to the Birmingham Chapter of the Society for Technical Communications at their August meeting. I was very pleased to be asked to speak and enjoyed my time with them.
If you find this deck useful, please drop me a note. If you have questions or comments, I welcome those too.